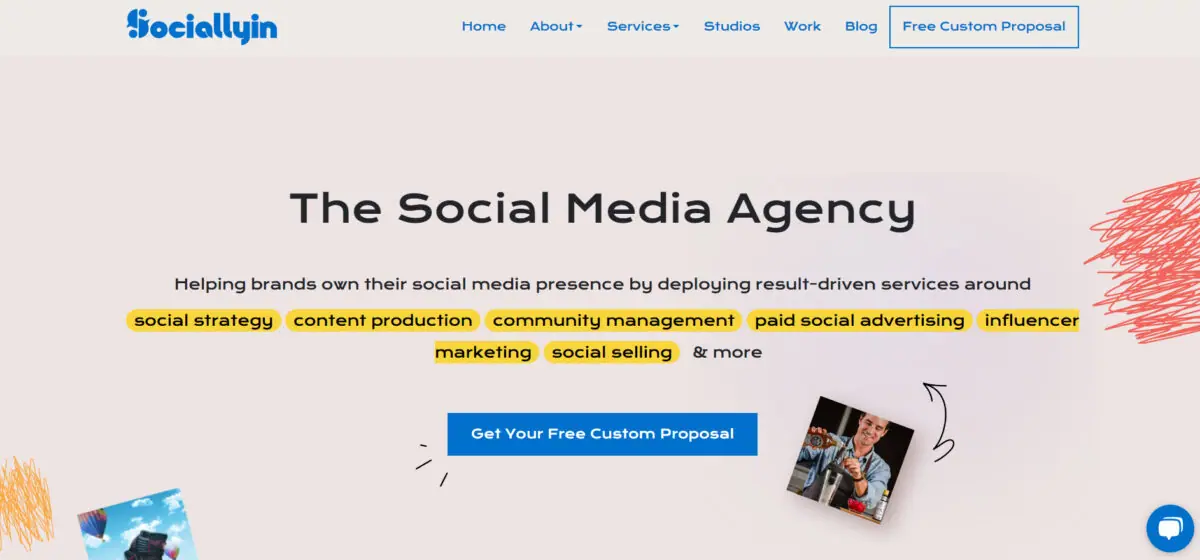 Sociallyin is a social media agency that takes "social" to heart in every aspect of its business. It leverages the collective power of its team of expert strategists, creatives, designers, writers, photographers, and social media gurus. It also applies a collaborative approach that enables clients to take an active role in exploring the optimal solutions for the positive outcome they seek. It helps create a community where engagement not just brings real value to the audience but also helps companies generate leads and boosts revenues.
The Sociallyin team has worked with well-known brands like Toyota, Friday's, Dick's Sporting Goods, and Alfa Insurance. Their fresh marketing perspective and result-driven strategy enables businesses to widen their social reach and accelerate growth.
Services:
Creative & Production
Community Management
Social Media Strategy
Social Paid Advertising
Social Media Content Production
Paid Advertising Management
Social Media Management
Influencer Marketing
Social Media Data Analysis & Roi Modeling
Social Selling Services
Company
50+
United States
Best for:
Businesses of all sizes
Channels
Facebook
LinkedIn
YouTube
Services
Social Media Management
Influencer Marketing
Social Media Strategy
Community Management
Content Production
Paid Social Advertising
Social Selling
Minimum Campaign Size:$20.000+
Sociallyin
SociallyIn offers creative content tailored to each business, offering influencer marketing, social media solutions, social media advertising & more.
---
Disruptive Advertising is a digital advertising agency based in Utah, USA, in the GMT-6 time zone. According to their website, they "aspire to be the last agency you'll ever work with," showing that they mean business and want to provide you with the results to prove it.
The Disruptive Advertising team works with a variety of industries, like ecommerce, B2B, legal, home services, healthcare, finance, insurance, education, and enterprise companies. They've worked with clients like Adobe, Death Wish Coffee, and Three Bird Nest.
Services:
Content Creation
PPC Management
Email Marketing
Social Media Management
Facebook & Instagram Advertising
Website Optimization
Ecommerce
B2B
Company
50+
United States
Best for:
Businesses of all sizes
Channels
Facebook
Instagram
LinkedIn
Pinterest
Snapchat
TikTok
Twitter
Services
Content Creation
PPC Management
Email Marketing
SEO
Social Media Management
Facebook and Instagram Advertising
eCommerce
B2B
SEM (Search Engine Marketing)
Google Ads Management
Microsoft Ads Management
Paid Search
Website optimization
Minimum Campaign Size:$5.000+
Disruptive Advertising
Most marketing leaders struggle to find a proactive, strategic agency partner with the expertise, services, & vision to drive long-term results online.
#1 Rated Digital Marketing Agency in the US
4.9103 REVIEWS
SPONSOR
$1,000+
$100 – $149 / hr
250 – 999
Greenwood Village, CO
Service Focus
50%Search Engine Optimization
Services:
Paid Media
Content & SEO
Integrated Strategy
Lifecycle Marketing
Creative Services
Video Production
Revenue Prediction